Welcome to Creativity Challenges!
Creativity coaching which integrates creativity challenges with life challenges, including health challenges.
Supportive individual and group coaching for writing, drawing, painting, crafting or your choice of creative process or project.
Free Email Newsletter
Online Workshops
Creativity Books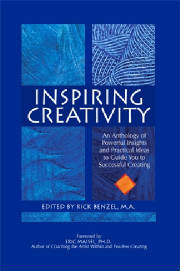 Hot Off the Press:
Inspiring Creativity: An Anthology of Powerful Insights and Practical Ideas to Guide You to Successful Creating
$14.95 plus $5.55 (s&h) = $20.50 U.S.
$19.95 plus $3.05 (s&h) = $23.00 CAN
Coach Louise
LOUISE is a creativity coach and facilitator of email groups. Since 1998 Louise, sometimes known as Pearl, has been a facilitator of email creativity recovery groups, brainstorming and planning groups, as well as health groups. She delights in encouraging people who want to live a creative lifestyle and to fulfill their dreams of completing projects. Louise supports those who are experiencing limitations and/or blocks because of chronic illness, disability, family stress, childhood experiences, and/or job pressures.
Coach Louise understands what it is like to survive the daily challenge of living with severe restrictions and limitations. She also knows that many people who are ill are very creative. Not only does creating help them to thrive, it also helps them to use their gifts to bless others.
Integrating creativity challenges and health challenges.

What one client says:
Pearl is both a supportive and motivating coach. She gently guided me to work through my fears about committing to projects. During the four months she worked with me, I accomplished many goals I had been procrastinating. These included building a website, learning better marketing skills and writing a proposal for a new book. I didn't know I had it in me, but Pearl did, and encouraged me to make these ideas a reality.
Kay Marie Porterfield
Author/Writing Coach
Live Your Creative Vision
www.kporterfield.com
Creativity Coaching
Creativity coaching is a partnership between a client and his or her coach. It is a professional working relationship where the coach supports the client in the process of creating and in developing good working habits for starting, pacing, and completing projects.
It is not therapy, but it is a relational type of communication, where there is a joining together to support a person in fulfilling his dreams, working with his creativity anxieties, and discovering the joys of doing what he feels called to do.
Read more about Creativity Coaching